Ska Brewing
"It takes characters to brew beer with character"
Somewhere out in Colorado, in the year nineteen hundred and ninety-five, two guys named Dave and Bill learned that while they loved gulping down good beer, they weren't yet old enough to buy it. They figured an answer to their quandary would appear if they drank enough and listened to enough thinking music, also known as Ska. On the second Skaturday of Skatember it hit them. If they brewed their own beer they'd have all the beer they could ever want. And while they were at it, why not brew the most magnificent suds ever quaffed in their neck of the woods…or any other neck for that matter.
Elsewhere in the world forces were conspiring to conglomerize and corporatize all of beerdom. Wheels were in motion to turn what was once an art mastered by those attracted to the science of handys, into a mechanized mire of swill so sullen it zombifies all who drink it. The black clouds of an evil empire were gathering, with one singular, maniacal mission – take total control and destroy the craft of brewing forever. Little did our heroes know that it would be up to them to save us all and make the world safe for good tasty beer once more…
Check out our selection of Ska below!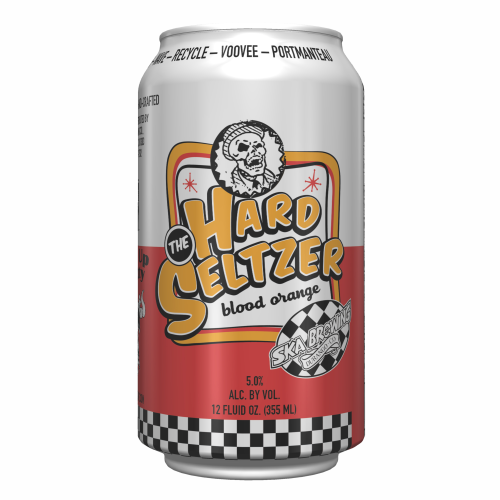 Blood Orange – Hard Seltzer
Low calorie/low carb. Fermented from all-natural cane sugar. All-natural fruit extracts. Weighing in at 5% ABV with only 100 calories, 2 grams of sugar, no added sugars, gluten free and wildly refreshing. Subtle blood orange flavors
Availability: Year round • ABV:5%
Hibiscus Lime  – Hard Seltzer
Low calorie/low carb. Fermented from all-natural cane sugar. All-natural fruit extracts. Weighing in at 5% ABV with only 100 calories, 2 grams of sugar, no added sugars, gluten free and wildly refreshing. Subtle hibiscus lime flavors
Availability: Year round • ABV:5%
Hibiscus Lime  – Hard Seltzer
Low calorie/low carb. Fermented from all-natural cane sugar. All-natural fruit extracts. Weighing in at 5% ABV with only 100 calories, 2 grams of sugar, no added sugars, gluten free and wildly refreshing. Subtle black raspberry flavors
Availability: Year round • ABV:5%