Millstream Brewing Company
We use the same care and dedication to quality to make our sodas that goes into brewing all our beers.  Sugar is used, not those nasty sugar substitutes. So sit back and enjoy the rich and creamy flavors of our Root Beer and Cream Soda.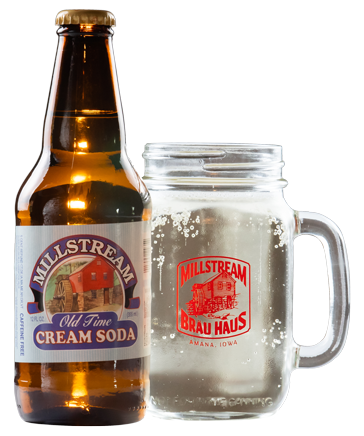 Old-Time Cream Soda
Our Old-Time Cream Soda is a very rich and creamy soda with lots of vanilla aroma. You will find that it is clear instead of having a slight colored tint to it. When we developed this soda we didn't realize it was supposed to have color so ours have become famous for its clear appearance.
Availability: Year round
Old-Time Root Beer
Our Old-Time Root Beer supports a thick, creamy head, lots of aroma and plenty of good old-fashioned taste. It will remind you of the Root Beer great grandpa used to make. This Root Beer is brewed to satisfy the most discriminating Root Beer Connoisseur.
Availability: Year round