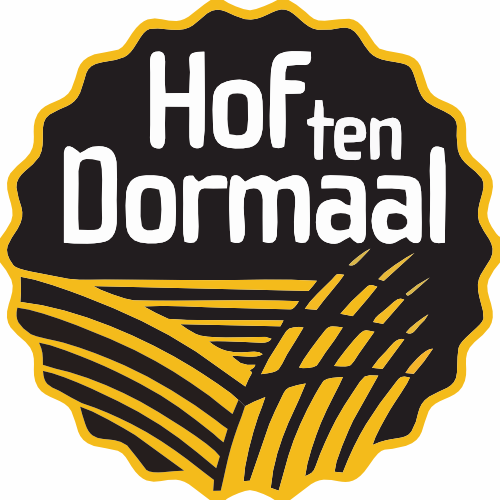 Hof Ten Dormaal
The point of the brewery was to be very traditional, yet strictly ecological. This was not going to be an ordinary brewery. It was going to be a nearly 100% self-sustaining brewery. They grow all their own grain, grow all their own hops, cultivate their own yeast strain, and even power the brewery with rapeseed oil that they themselves would produce. Ambitious, yes. Crazy, one could argue. But the dream is now indeed a reality, and as far as we know, there is no other commercial brewery anywhere else in the world doing anything quite like it.
To make matters better their beers are stunning. Simple, yes, but they are designed to be ñ each brew containing a single grain, single hop, and single yeast strain. They are, however, nothing short of exquisite. Original Belgian farmhouse ales brewed strictly via traditional methods.
Amber Ale – Belgian farm ale
Amber coloured, top fermenting beer. Brewed on the farm with respect for the old farm traditions and from a careful selection of our best barley and hops. Recommended serving temperature: 5-8 degrees Celsius.
Availability: Year round • ABV:7.5%
Blonde Ale
We only use barley malt. That's why the beer is straw-colored. We grow the barley ourselves, in order to guarantee the high quality. The sugars released during the brewing process are converted into alcohol in ten days at a temperature of 25 degrees C. Then, the beer is stored at 0 to 5 degrees C, so that it can rest and the multitude of tastes and flavors appear. This is a simple beer of malt, barley and hops. That's it. Good products, good skills and especially time make this unfiltered, slightly cloudy beer so delicious. It tastes a little bitter at the end due to the strong hops. You can taste our farm, Hof Ten Dormael, in it.
Availability: Year round • ABV:8.0%
White Gold
White Gold is the first chicory beer in the world. This blond farm beer has less hops but part of the hops is replaced by the chicory root which is added to the brewage in the last half hour of the brewing process. Fresh bitter aroma of chicory. Yeasty, fruity sweetness cut by a well balanced bitterness imparted by the chicory root. 90 % of ëWhite Goldí is for export to the United States, only a small part stays in Leuven, for the gourmets.
Availability: Year round • ABV:8.0%
Zure Van Tlldonk – Blond Sour
No commercial description available at this time.
Availability: Year round