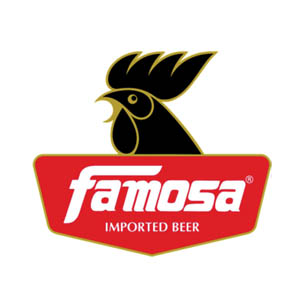 Famosa
Famosa® is widely recognized internationally for its superior quality. Brewed by Cervecería Centro Americana, S.A. which through history has obtained multiple awards and distinctions. The first award was obtained in 1914 when it won the Gold Medal for the Panama Pacific International Exposition. Since 1967 the Institut Pour les Selection de la Qualité, based in Brussels, Belgium has prized Cervecería Centro Americana, S.A. with 25 Monde Selection awards, including 21 gold medals and 1 distinguished Great Gold Medal in 1992.
In 2003, Cervecería Centro Americana received the Crystal Prestige Award for the outstanding quality of its Gallo® branded beer, which has obtained for 10 straight years the Gold Monde Selection Medal. Gallo® became the first beer in all of the Americas to have received this award and is the third beer in the world to be granted this prestigious recognition. Throughout 2003-2009 Gallo® has continued to achieve a Gold medal for its outstanding quality.
Check out our selection of Famosa below!
Famosa – Lager
The the most famous beer in Guatemala, with a different name exclusively for commercializing in foreign markets. Famosa® is a lager beer with a light golden color which is known for being a full body beer, possessing smooth bitterness and delicate aroma. Thanks to its wholesome flavor and balance, it has become the favorite of those who demand and enjoy a high quality beer.
Availability: Year round • ABV:5.0% • IBU:20