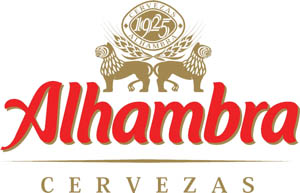 Alhambra Cerveza
Alhambra Especial is brewed by Cervezas Alhambra, which is situated in the ancient city of Granada, Spain, in the shadow of the snow-caped Sierra Nevada. The brewery uses 100% all natural ingredients, crystal mountain waters, and no artificial additives to craft each fine beer since 1925. All Alhambra beers are bottom fermented and slow matured using a longer, superior process which may last 20-39 days.
Alhambra Cervezas are the #1 craft beers of Spain.
Alhambra Especial
Alhambra Especial is a well-rounded extra gold lager. This low fermentation beer has a bold body, full flavor profile, and is incredibly smooth on the palate. Aromas of intense malt and hops, segway to a taste of a bitter zing with a refreshing smooth transition of stimulating hops that linger on the tongue, which dilutes delicately but never quite reaching the throat.
Availability: Year round • ABV:5.0% • IBU:17
Alhambra Negra
Alhambra Negra, very dark with a garnet hue and thick, creamy head is packed with a spectrum of deep aromas. The drinker may recognize a bouquet of liquorice to coffee, possibly finishing with a touch of molasses. It's bursting with flavors of toasted malts and spice.
Availability: Year round • ABV:5.4% • IBU:19