Sixpoint
Whether it is a Craft Ale, Crisp Lager or Cycliquid – each of Sixpoint's beers are a unique Sixpoint creation. The fountainhead of their creativity is not confined to the shackles of "style guidelines" because style simply has no guidelines. Style is boundless, amorphous, restless.
Sixpoint does not reverse engineer their formulations, but instead "proverse" engineer them. Before there is a description, there is an intent, and the intent produces a concept, and the concept manifests itself in a formulation. But Sixpoint has listened to their fans, and since they've asked for more help deciphering their creations, they've offered names of styles many beer fans are familiar with. However, whichever beer style a Sixpoint most closely resembles, each creation is distinctly its own.
Check out our selection of Sixpoint beers below!
Bengali – IPA
While we could suggest what food this beer pairs well with, or which glass to serve it in, the most important thing to remember is: even though we may take beer very seriously, we don't take ourselves too seriously. It's Mad Science.
Availability: Year round • ABV:6.5% IBU:96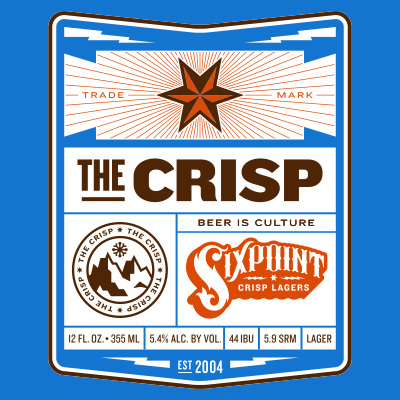 Crisp – Pilz
When the Mad Scientists emerged from underground, the quest for a new formulation went from obsession to reality. What do you get when you fuse old world craftsmanship with new, clean, & bold flavors from right raw materials? The Crisp. It's Mad Science.
Availability: Year round • ABV:5.4% IBU:44
Resin – IIPA
Resin is an ode to the sticky quintessence of hops – we extracted the alluring nectar from every precious citrus, pine, dank and herbal cone and channeled it all into one vessel. Now that's Mad Science.
Availability: Year round • ABV:9.1% IBU:103
Sweet Action – Cream Ale
Through all the madness emerged an undefinable beer called sweet action. A beer that your brain cannot categorize, but instead speaks directly to your palate. Our senses and intuition sometimes trump ratinal thought. It's mad science.
Availability: Year round • ABV:5.2% IBU:34
Tesla – Hoppy Lager
Think the juicyness of big doses of American Hops, with that clean snappiness of a cold-fermented, meticulously-lagered beer.
Availability: Year round • ABV:7.1% IBU:49
5 Beans – Coffee Ale
Entraced by the alluring aromatics of black cardamom, the Mad Scientists capture the pod's essence to join the flavors of coffee, cocoa, and vanilla in a melting pot of beans.
Availability: Year round • ABV:10.5% IBU:55