Peak Organic Brewing Co.
Our mission is to source the finest ingredients to brew the best beer. We work with amazing farmers around the Northeast who are truly growing some of the most fantastic hops, barley, and wheat in the United States. Sourcing directly from farms, we're able to help drive an amazing resurgence in sustainable agriculture in the Northeast, farming practices that put quality and flavor first and foremost.
With roots in home brewing back in the 90s, brewer Jon Cadoux set about combining his love for beer with an ethic for sustainability. Whenever possible, he would go out and find ingredients from local organic farmers for his homebrews.  It was a defining day when Jon discovered that you don't need to sacrifice flavor for sustainability, but that better ingredients actually made the beer more delicious.
Fortunately it wasn't hard to find good people on brew days to experiment and enjoy the fruits of their labor.  From longtime friends to college buddies, and even his brother, a kinship was forged to share in this quest to make delicious organic beer.  Many of those people are still part of the company today.
Now, brewing out of Portland, Maine, we're proud to be part of a craft beer renaissance. It's an exciting time for American craft brewers, who are creating some of the best beers in the world.   Peak is contributing to this movement with contemporary takes on traditional styles of beer, and innovative flavors that have never been brewed before. If you read about our beers, you'll see we love to collaborate with other local purveyors, organic farmers, creative chefs, and like-minded organizations to create a tasty beer in the best way possible.  In 2009, Peak helped Maine farmers cultivate commercial hops, the first such harvest since 1880.  We take great pride in the fact that these hops were organic.
Today there are over 48 organic hop farms in the US, and that number is growing every year. The acreage of organic grain being grown is expanding at an equally exciting rate, and we're proud to say that annually we help keep 205,775 lbs (93.45 TONS) of toxic persistent pesticides and chemicals off the soil. That number is growing every year, and as Peak continues to grow, the footprint of sustainable farming, and ultimately fresher and more flavorful ingredients continues to grow as well. Cheers!
Check out our selection of Peak Organic Brewing below!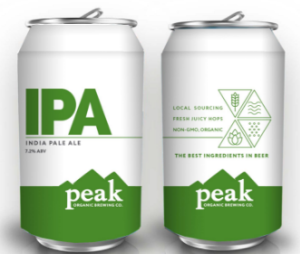 Peak IPA
This unique India Pale Ale features our favorite hops—Simcoe®, Amarillo® and Nugget. A generous Amarillo and Simcoe dry hop provide for an assertive, hop-forward nose and front palate. We don't use traditional bittering hops in our IPA, providing nothing but stimulating citrus and floral characteristics.
Inspired by a recipe from our good friend and fellow homebrewer Tim from the North Shore Homebrewers Club.
Availability: Year round • ABV: 7.1% • IBU: 76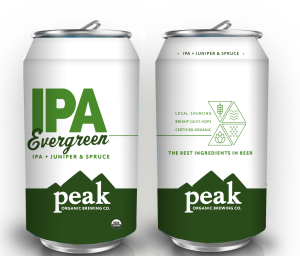 Evergreen IPA
Evergreen IPA is built from Peak's flagship IPA, but enhances the hoppy pine notes by blending in organic juniper berries and organic spruce. The result is a unique IPA with bright pine and resin hop character. The finish is distinctly crisp, begging for another sip.
Availability: Year round • ABV: 7.0%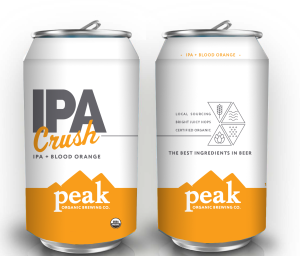 Crush IPA
Crush IPA takes the citrus characteristics of Peak IPA and elevates them with a subtle addition of organic blood orange peel. The juicy citrus aroma really pops, and the brisk body of the beer is accented with notes of bright ripened fruit.
Availability: Year round • ABV: 7.0%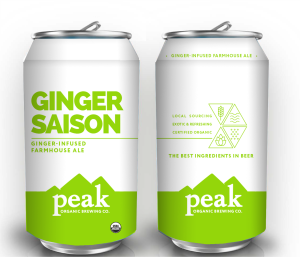 Ginger Saison
We love Ginger for its unique, exotic flavors. Our favorite Saison recipe is the backdrop here, with hints of spice and fruit from the Belgian yeast. Enjoy!
Availability: Year round • ABV: 4.7%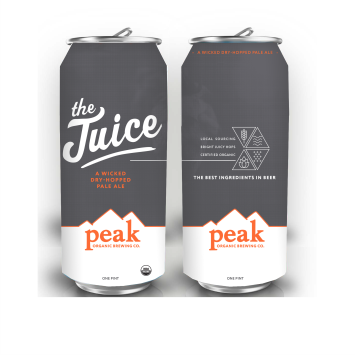 The Juice
The Juice – a wicked dry-hopped Pale Ale – is the charismatic cousin to Super Fresh. Tangerine and berry notes explode in the aroma, and juicy hop flavors burst on the scene at first sip. Brewed with amarillo, citra, simcoe, and one of our new favorite hops – Azacca.
Availability: Year round • ABV: 5.8%