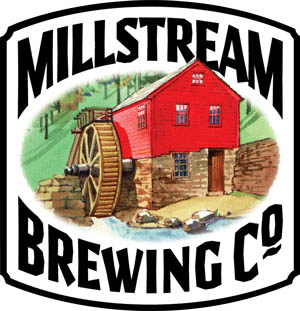 Millstream Brewery
Some years ago, three Amana men decided to revive an art that hasn't been practiced in Amana for years – the art of brewing beer. Carroll Zuber and brothers, James and Dennis Roemig, had a dream of building a small craft brewery to produce small batches of hand brewed beer reminiscent of Europe's finest brews.
In 1985 Millstream Brewing Company opened its doors – the first brewery to operate in Amana since 1884 and the first craft brewery in Iowa. So the Millstream Brewery was born and became recognized as the home of quality, multi award winning brews and rewarding taste.
Check out our selection of Millstream beers below!
Backroad Stout – American Stout
Our Colony Oatmeal Stout Colony Oatmeal Stout used to be just a winter seasonal brew when it first was introduced back in 1996. But since then popular demand has made it into an all year affair at the brewery. The 'oatmeal' in the name is due the 10% oatmeal in the grist of this brew. Oats give beer a real thick mouth feel, something definitely desirable in a stout! But the real secret is in our lager yeast. Most stout's are made using ale yeast, but we wanted ours to be as smooth as our lagers! Black malt and roasted barley give the beer its color, and coffee-like flavors. If you like thick full-bodied stout, this beer is for you!
Availability: Year round • ABV:6.7% • IBU:22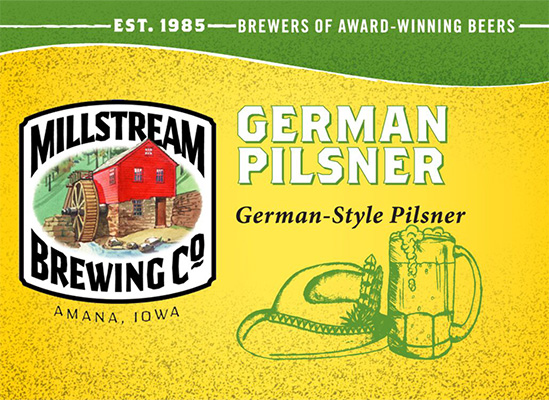 German Pilsner
Pilsner is simple, and yet it is a beer of great finesse. Its not easy to make a beer pure enough to really let the hops stand out , but that is the goal of our pilsner. Our lager yeast produces a clean fermentation, which a produces light malt taste that lets the delicate aromatic flavors of the hops shine through. We use Czech Saaz hops that are a delight to the senses and impart an arousing aroma and satisfying flavor. The end result is a crisp refreshing beer that has a pleasant hoppy aftertaste.
Availability: Year round • ABV:5.5% • IBU: 25
Iowa Pale Ale – IPA
Our Iowa Pale Ale is a hoppy pale ale that we make with plenty of cascade hops from the west coats. We decided to name it Iowa Pale Ale because if you take the first letter of each word it is an "IPA" which fits the style of beer and that it is from Iowa. It is one of those names that gives it its local flavor, so we thought it appropriate to name a beer after it so that is full of localness. Pale Ale's on the coasts of this country are turning into hoppy monsters, but our beer is more mild and about balance. It has enough bitterness to match the maltiness provided by the pale malt base.
Availability: Year round • ABV:5.7% • IBU: 29
John's Generations – White Ale
The popularity of the style waned during the first half of the twentieth century and the beer was almost extinct by the early 1960's. The Belgian Pierre Celis bought the last "white" beer brewery in Hoegaarden and launched a revival of the style bringing the style back to the world. By the mid-1980's several breweries in the region were making similar beers but without distinctive orange peel and coriander spice.
Availability: Year round • ABV:5.2% • IBU: 14
Oktoberfest
Millstream's Oktoberfest is similar to the our Munich style Schild Brau Amber, but it has more flavor, is maltier, and darker in color. A truly special beer, to celebrate the harvest, an important part of life here in Amana. Join us for the Amana Colonies Oktoberfest and partake of a pint yourself!
Availability: Seasonal • ABV:5.7% • IBU: 27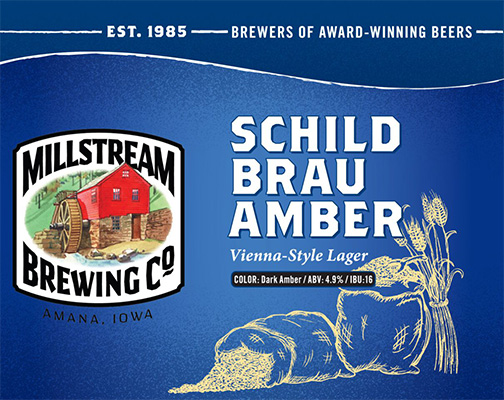 Schild Brau Amber – Amber Ale
The name Schild Brau means essentially "Schild beer" in German. This is our Flagship brew, a Craft-brew done in the style of the special beers of Munich. Our beer uses sweet carmalized malts to attain a perfect balance between malty sweetness and a firm bitterness. Our Hallertau hops, imported from Germany five it subtle spicy flavor. The repeated awards that we have received for this beer only confirm why many people consider this beer to be synonymous with Millstream Brewing Company at its best.
Availability: Year round • ABV:4.9% • IBU: 16