Hoppin' Frog Brewery
Hoppin' Frog Brewery is a small, hands-on brewery in Akron, Ohio crafting award winning beers in the most flavorful styles.
Brewing the highest quality beer with an uncompromising focus on detail, from ingredient selection all the way through the brewing process.
Check out our selection of Hoppin' Frog below!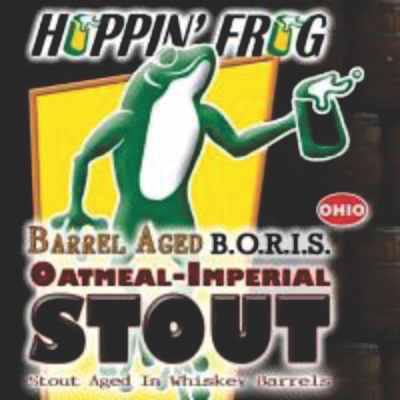 Barrel Aged B.O.R.I.S. The Crusher Oatmeal Imperial Stout
Barrel-Aged B.O.R.I.S. takes the GOLD at the World Beer Cup 2012. Made from our B.O.R.I.S. Imperial Stout, that was rated one of the World's 50 Best Beers, and won the Gold Medal at the GABF in 2008. BARREL-AGED B.O.R.I.S. has picked up rich characters of vanilla, dark fruit, oak, and spice. It's unbelievably complex and savory.
Availability: Year round • ABV:9.4% • IBU:60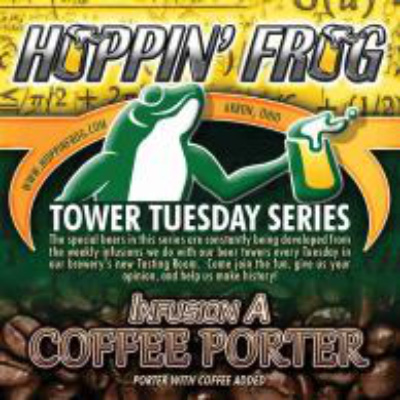 Infusion A Coffee Porter
Swirls of heavenly chocolate and peanut butter flavors surround your senses, as you enjoy this wonderful maze of complexity that is "Infusion A". The first of our Tower Tuesdays Series, this robust coffee porter is a great example of the eye-opening flavors we have developed with our Tuesday infusions. Taste the results of our research, we truly are developing better beer through knowledge.
Availability: Year round • ABV:6.2% • IBU:26
B.O.R.I.S. The Crusher – Oatmeal Imperial Stout
GOLD MEDAL WINNER – Great American Beer Festival 2008, 2010. Ages in Bourbon whiskey barrels to add a wonderful complexity to our massive American Double Imperial Stout. This barrel aging imparts a memorable buttery, vanilla-like, and savory whiskey character, making this one of our most complex beers we've ever brewed. Another testament to our hard work and dedication in bringing our customers the very best.
Availability: Year round • ABV:10.5% • IBU:70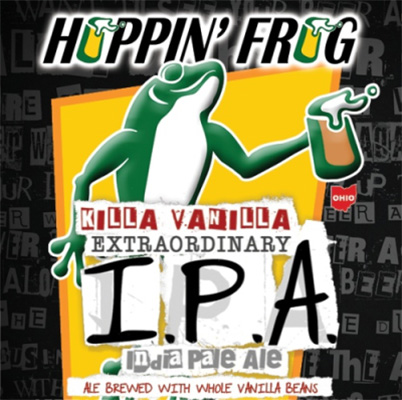 Killa Vanilla Extraordinary I.P.A.
Behold the wild combination of flavor and aroma of our vanilla bean IPA. These are two great tastes that taste great together, and will open your eyes to the inventive side of brewing! Welcome to our world, where we apply engi-beer-ing knowledge to create new beers the likes of which are seldom experienced. Open your eyes to Hoppin' Frog, and open your eyes to the world of beer!
Availability: Year round • ABV:7.5% • IBU:55
Teeny Tiny – Test Batch I.P.A.
Brewing IPAs is the perfect combination of art and science – the ones that do it best balance both perfectly. That takes a lot of imagination and experimentation, which is where our Teeny Tiny Test Batch IPAs were developed. Now we have the absolute finest American hops from the actual crops that we selected and are having great success testing their qualities at our brewery. And when we create one of these great IPA recipes, we plan to take it from 10 gallons to 10 barrels, and share it with the world! Hops featured each batch can be determined by the cap color on the bottle. Green Cap – Chinook Hops.
Availability: Year round • ABV:7.0% • IBU:55
Mean Manalishi – IIPA
Explore the extremes of hops, and experience all of their bitterness, flavor and aroma with this Double I.P.A. An extreme, super-assertive and satisfying amount of American hop character is balanced with a toasty, caramelized, intense malt presence.
Availability: Year round • ABV:8.2% • IBU:168
El Frogquistador – Barrel-aged Ale
Set forth to become the conqueror of extremely special and rare Spanish brandy barrels that were captured by our crew, El Frogquistador was conceived. It had to be prepared for the battle, yet lively and agile enough to conquer all of this delicious, complex, and memorable goodness.
Availability: Year round • ABV:8.6% • IBU:8