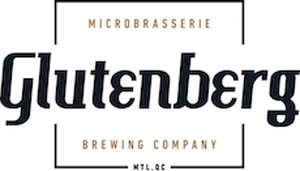 Glutenburg Brewery
BSG was founded on the collaboration between long-time friends, Julien Niquet and David Cayer. Julien, a born entrepreneur, always wanted to have his own company. Were it not for his gluten intolerance, it is unlikely BSG would have ever been launched. David, on the other hand, never really dreamt of being an entrepreneur, until he stepped in!
The idea of brewing gluten-free beer was first discussed at the beginning of winter 2011. Thanks to the support of friends and relatives, they were able to raise the funds required to buy the equipment and recruited the right brewer, Gabriel Charbonneau, who saw their ad on Facebook!
More than a year and a half later, after dozens of tests, they finally produced a perfect gluten-free beer. A golden blonde, dry, perfectly hoppy, with notes of lemon peel, but most important of all, a gluten-free beer that tasted like real beer! This was unheard of, in a market that had existed for ten years. The Glutenberg Blonde was thus born.
Check out our selection of Glutenburg below!
American Pale Ale
The hoppy one! Most likely the first gluten-free beer in the world that presents such a hopped character, our American Pale Ale is the true flagship of Glutenberg beers. Its citrus and caramel notes, coupled with a mild bitter finish, come together in perfect harmony.
Availability: Year round • ABV:5.5% • IBU:50
Red Ale
Our big winner! Each Glutenberg beer has a personality of its own, and the Glutenberg Red is definitely the one with the strongest character. The gold award it won at the World Beer Cup in 2012 proves it in a very eloquent way. The use of roasted chestnuts endows this beer with toasted nuts and caramel hints, and gives it a unique aromatic personality.
Availability: Year round • ABV:5.0% • IBU:24
Blonde Ale
Our classic. More than a year of research was invested in the development of our first beer. The Glutenberg Blonde and a new brewery, BSG, were born. Beer lovers will appreciate its complexity. Although simple in appearance, it reveals a high level of refinement. Dry and citrusy, the Glutenberg Blonde is an easy to drink beer that is in a class of its own.
Availability: Year round • ABV:4.5% • IBU:15
India Pale Ale
Full of flavour! Following the steps of the American Pale Ale, the IPA brings hops, flavor and gluten free brewing to a whole new level. The IPA has everything to become a fan favorite : an aromatic nose full of citrus, lemon and floral notes, a crisp and sharp mouthfeel paired with light caramel and hoppy flavors. A flavorful, very flavorful quencher.
Availability: Year round • ABV:6.0% • IBU:76
White Ale
The Blanche is a completely unique interpretation of a classic style of Belgian inspiration. Traditionally brewed with wheat, Glutenberg renewed the style entirely to put forward a 100% gluten- and wheat-free beer, a tour de force of which only we hold the recipe. The Glutenberg White's distinction lies in its quinoa and amaranth composition, which endows it with a noticeable grainy profile, ensuring a steady mouth-feel. Soft and refreshing, with hints of coriander and curaçao, the White is the perfect nectar to quench your thirst.
Availability: Year round • ABV:5.0%