Glutenberg
BSG was founded on the collaboration between long-time friends, Julien Niquet and David Cayer. Julien, a born entrepreneur, always wanted to have his own company. Were it not for his gluten intolerance, it is unlikely BSG would have ever been launched. David, on the other hand, never really dreamt of being an entrepreneur, until he stepped in!
The idea of brewing gluten-free beer was first discussed at the beginning of winter 2011. Thanks to the support of friends and relatives, they were able to raise the funds required to buy the equipment and recruited the right brewer, Gabriel Charbonneau, who saw their ad on Facebook!
More than a year and a half later, after dozens of tests, they finally produced a perfect gluten-free beer. A golden blonde, dry, perfectly hoppy, with notes of lemon peel, but most important of all, a gluten-free beer that tasted like real beer! This was unheard of, in a market that had existed for ten years. The Glutenberg Blonde was thus born.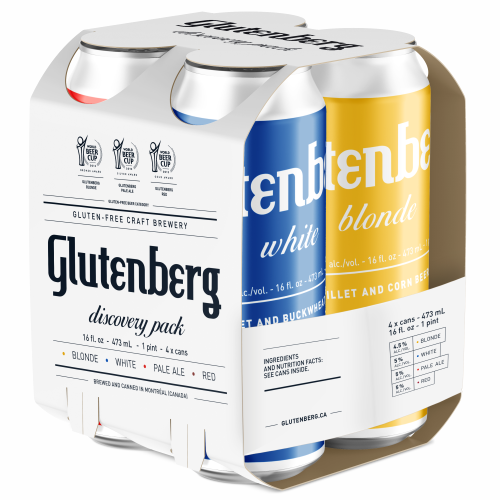 Discovery Pack
Included in this 4 pack is one of the following: Blonde, White, American Pale Ale, Red Ale. A great way to try 4 of their most popular gluten free options.
Availability: Year round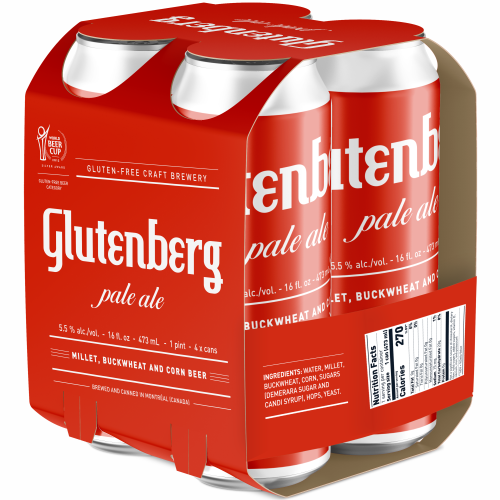 American Pale Ale
The American Pale Ale is Glutenberg's first incursion in the universe of hoppy beers. A savoury concoction with citrusy notes, this beer perfectly showcases the brewery's versatility. Its orange and grapefruit aromas softly temper the straight-up character of American hops by endowing it with a slight touch of bitterness. The result is a delectable, balanced, resinous and full-bodied beer.
Availability: Year round • ABV:5.5% • IBU:50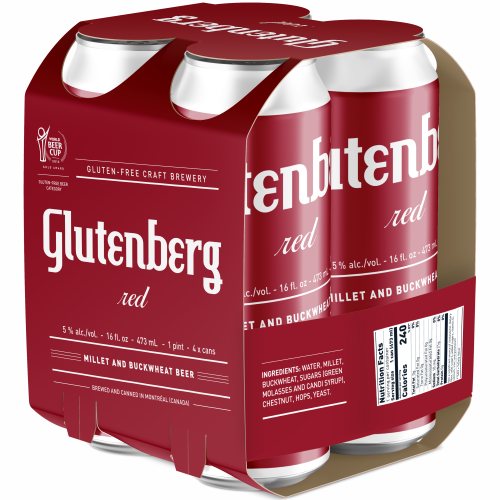 Red Ale
Proudly echoing English brown ales, the Glutenberg Red is renowned for its great complexity, both in its manufacture and in its taste. Brewed from two types of chestnuts, each requiring its own specific roasting method, this smooth beer with a hint of toasted nuts reveals a unique coffee and caramel taste. She stands out in all the charts, with good reason!
Availability: Year round • ABV:5.0% • IBU:24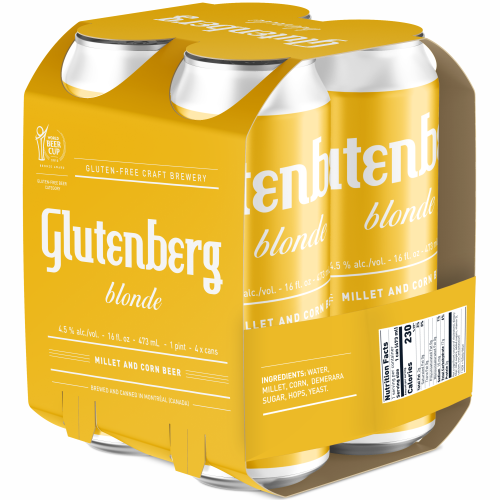 Blonde Ale
Glutenberg's Blonde is the proud originator of the range, the pioneer of real good gluten-free beer. Airy and lemony, its golden colour reveals floral and slightly herbaceous notes, giving way to a dry and tasty finish. The brewery's first official creation, it paved the way for success and continues to assert itself today as a thirsty beer that will charm all palates.
Availability: Year round • ABV:4.5% • IBU:15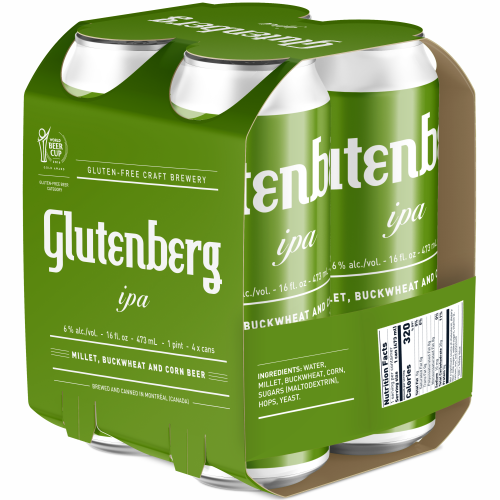 India Pale Ale
Glutenberg's IPA is a dream come true for lovers of microbrewed beer. A true little flavour bomb, it presents a perfect harmony between citrus fruit aromas, the freshness of hops and bitterness.
This beer guarantees a soft contact with tastebuds, releasing notes of apricot and sweet caramel. Its exacerbated dry side makes its bouquet of flavours shine and ensures a good aromatic persistence. To be consumed fresh and in large quantities!
Availability: Year round • ABV:6.0% • IBU:76
White Ale
This is a very unique interpretation of a classic style of Belgian inspiration. Traditionally brewed from wheat, the genre has been completely redesigned in the Glutenberg way in order to present a 100% gluten-free and 100% wheat-free beer, a real tour de force whose recipe only we have!
The Glutenberg White is distinguished by its composition of quinoa and amaranth which, while giving it a strong grainy profile, ensures a long lasting taste. Soft and refreshing, with hints of coriander and curaçao, the White is the perfect nectar to quench your summer thirst.
Availability: Year round • ABV:5.0%  IBU:13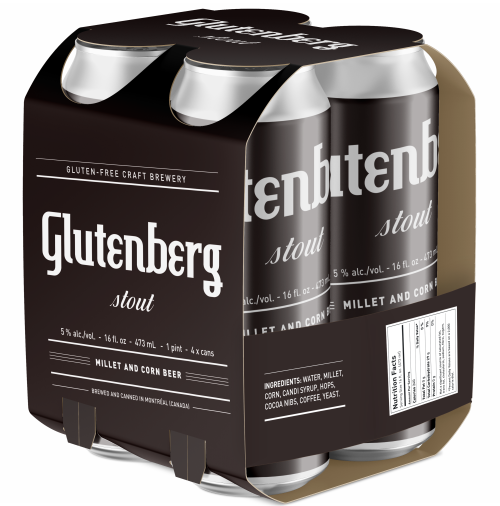 Stout
Glutenberg's Stout is distinguished by its opaque black colour, as well as by its powerful aromas of cocoa and roasted cereals.
Robust notes of espresso coffee, dark chocolate and ripe fruit conferred by the dark malt give it a pleasant length in the mouth that will not leave Stout lovers indifferent.
Availability: Year round • ABV:5.0% • IBU:40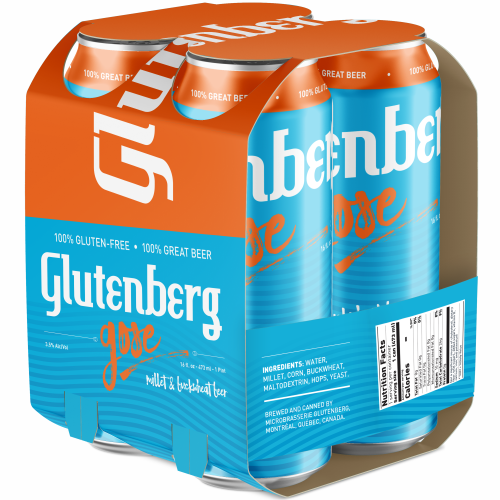 Gose
The Glutenberg Gose can be qualified as a sour beer, a type of beer that has gained overwhelming popularity in the world of craft brewing.
Its lime and lemon aromas are enriched by the floral and fruity profile of Mandarina Bavaria hops and by a touch of acidity resulting from lactobacilli fermentation. Finally, a pinch of sea salt gives the Gose sweet and salty notes, resulting in a tangy beer with a dry and bold finish.
Please note that the Gose is an unfiltered beer.
Availability: Seasonal • ABV:3.5% • IBU:7