Crooked Stave Brewery
Founded in Denver, Colorado in late 2010, Crooked Stave is the product of "Brettanomyces Guru" Chad Yakobson's open source Master's research, The Brettanomyces Project. Crooked Stave's progressive brewing approach blends science and art through creativity and passion. The resulting creations, most of which use Brettanomyces yeasts and mature in oak, are beers of extraordinary complexity.
Crooked Stave is a play on the word Stave – one of many strong wooden slats collectively bound together by metal hoops to shape a wooden barrel. Our name is a commitment to how closely we work with each barrel and embodies the love we put into each beer. Wooden barrels are the focal point of our brewery and the beers we brew. We are Crooked Stave by way of origin: unique in our beginnings and set apart from our peers. We set our own path, releasing specialty Brettanomyces-only, wild, sour, and barrel-aged beers.
Sour Rosé – Fruited Sour Ale
Aged in Oak Barrels with Washington raspberries and blueberries.
Availability: Year Round • ABV:4.0%
Colorado Juicy East – New England IPA
Double Dry-hopped with Azacca, Citrus, Mosaic and Motueka
Availability: Year Round • ABV:6.0%
Juicy West – New West Coast IPA
Double Dry-hopped with Simcoe, Citra & Mosaic
Availability: Year Round • ABV:6.0%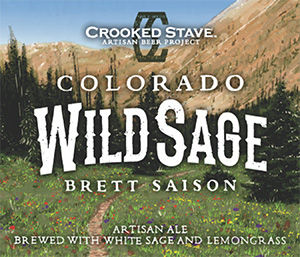 Colorado Wild Sage – Saison
Vielle Barrel-Aged Saison with Fresh Cuttings of Colorado Wild Sage and Lemongrass.
Availability: Limited • ABV:7.0%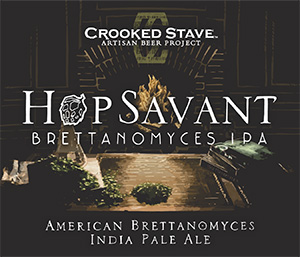 HopSavant – IPA
This brew is made of a blend of different hops (36% Citra, 36% Mosaic, and 28% Simcoe). To keep things interesting, each batch is dry hopped using different experimental hops varietals. The bottles are marked on the back to show which strain was used for that specific batch.
Availability: Limited • ABV:6.7%
Surrette – Saison
Brewed with traditional harvest grains. Surette is a provision Saison with a tart and vinous character from extended barrel aging.
Availability: Limited • ABV:6.2% • IBU:20
Vieille – Artisanal Saison
Vieille meaning "Old" is our artisinal barrel-aged Saison, lightly dry hopped. Each batch release is a diverse blend of Vieille casks that have taken on a soft Brettanomyces character before being lightly dry hopped. Dominated by a floral, citrusy hop character, a subtle herbal note and a tart finish, Vieille's character exemplifies artisan Saisons.
Availability: Limited • ABV:4.2% • IBU:20
Brett Spring
St. Bretta is our 100% Brettanomyces Whitebier that was just released this week! Not only is St. Bretta an evolution of Wild Wild Brett Orange, but also it will be ever-changing depending on the fresh citrus available that season. For our spring release we decided to brew St. Bretta with fresh Minneola Tangelo.
Availability: Limited • ABV:5.5%
Progenitor
Dry Hopped Golden Sour Ale
Availability: Limited • ABV:6.2%