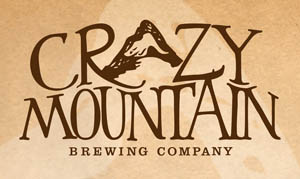 Crazy Mountain Brewing Company
When your passion is your job, life is good. Want to know what's crazy? If we hadn't met over beers in a tasting room in San Francisco, we would still be working in high rises and struggling against the current of chaotic city life. Instead, we crafted a crazy brewery scheme and followed our hearts to Colorado where our lives are filled with passionate pursuits: brewing the finest craft beer, skiing Vail's infinite Back Bowls, fishing clear mountain streams, hiking with our dogs…basically loving life in the beautiful Rocky Mountains.
Crazy Mountain Brewery is the Vail Valley's first production brewery, but really it's a declaration of freedom. We say crazy is, as crazy does, so drink up and live the life you want!
Check out our selection of Crazy Mountain below!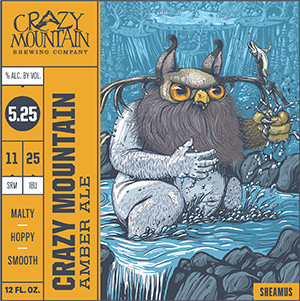 AMBER ALE
Crazy Mountain Amber Ale was named after a mountain on the Selvy Family's ranch in Central Colorado. "Loco Mountain" translates from Spanish to "Crazy Mountain," and this beer is crazy good. This delightfully floral American style Amber Ale displays a wonderful balance while still maintaining a profound hoppy goodness. We load this beer with a ridiculous and obscene amount of West Coast hops that are added late in the boil, resulting in a hoppy beer without any bitterness.
Availability: Year round • ABV:5.25% • IBU:25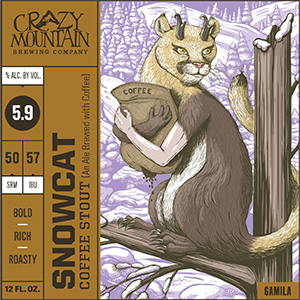 Snowcat COFFEE STOUT
This winter brew is an ode to the colorful characters – The Midnight Marauders – that flatten snow in the wee hours, as they ascend without fear into the darkness. For them, we took some artisanal roasted local coffee and brewed it up in a stout made up of a complex blend of roasted malts. Use this ale in the AM or the PM, to get you through the winter months and don't forget to toast the snowcat drivers who craft the perfect corduroy for first tracks.
Availability: Seasonal • ABV:5.9% • IBU:50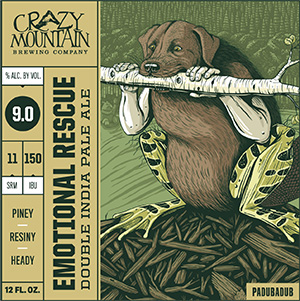 Emotional Rescue DOUBLE INDIA PALE ALE
This is an ever-evolving beer for Crazy Mountain. It is an opportunity to experiment with a wide variety of experimental hops. The profile of this beer changes batch to batch due to the hops we use. Each brew showcases a different varietal of hop but the idea stays the same – a deliciously educational way to learn about new hops.
Availability: Year round • ABV:9.0% • IBU:150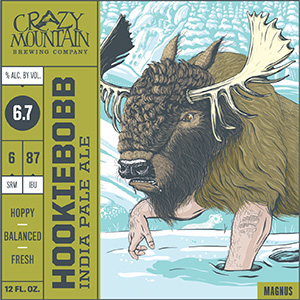 Hookiebobb India Pale Ale
In the 1960s, before Vail Village was paved and closed to vehicles, "hookiebobbing" referred to those committed fools who, while on skis, grabbed onto the bumper of passing cars to tow them up to the lifts. Our IPA is a Colorado approach to the American take of an English classic. Three aggressive yet floral American hops and one hop from Down Under team together to make a bright, citrusy and floral India Pale Ale. A deep caramel malt helps to balance the bitterness of the hops and lets the complex hop bill shine.
Availability: Year round • ABV:6.7% • IBU:87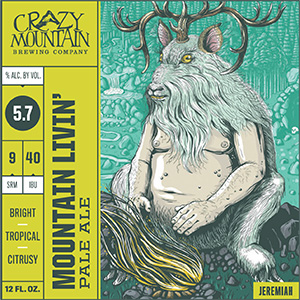 Mountain Living PALE ALE
Our easy-drinking Pale Ale's namesake truly represents life in the mountains. The Colorado mountain lifestyle is laid back, fulfilled and relaxed. We utilize two types of American hops in such a way that we put the flavor of these hops center stage and let their bitterness fade into the background. The hop-forward character of this Pale Ale shines through in the unique, tropical fruit flavor of two American hop varieties. Enjoy this beer with a fresh approach to how a Pale Ale expresses its inner hoppiness.
Availability: Year round • ABV:5.7% • IBU:40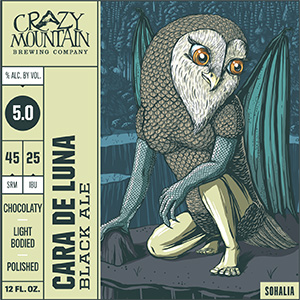 Cara de Luna
This mutt of a beer is truly unique, just like its name's origin. Cara de Luna comes from a childhood nickname that founder Marisa's dad came up with to describe her incredibly round and full face. The phrase is Spanish for "Face of the Moon." We take German hops, Belgian Malt, and American yeast to make this Black German Pale Ale. A light mouthfeel lends itself to the soft maltiness and distinct smooth hop character.
ABV:5.5% • IBU:25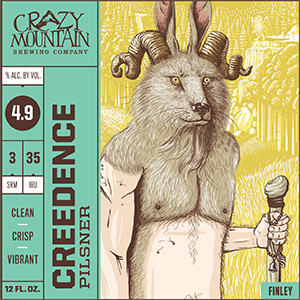 Creedence Pils
This Pilsner is modeled after the classic bohemian Pilsners of Europe. We use high quality Pilsner malt to lend the beer a nice delicate flavor and aroma. We add classic Czech hops to give a slightly spicy cedar nose with a light floral finish. This delicately malted, easy-drinking beer is enjoyable on your porch during the warm months as well as for apres ski after a long day skiing powder.
ABV:4.9% • IBU:35