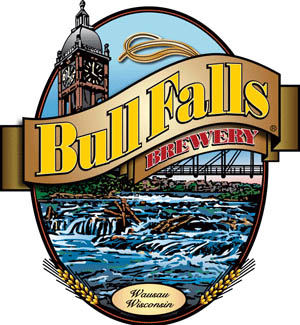 Bull Falls Brewery
Wausau's first distributing micro-brewery, featuring quality craft-brewed beers. Bull Falls lagers are made with German ingredients, resulting in authentic beers made to style. The flagship 5 Star Ale is patterned after a popular English ale with Bull Fall's own adaption. American ales are also featured and brewed to style. All of our Bull Fall's beers are designed to appeal to craft beer lovers throughout the midwest and all have been very well accepted.
Bull Falls brews are already being distributed to popular establishments in Wisconsin and now Clear River Beverage brings their great brews to Minnesota!
Five Star Ale
Bull Falls Five Star Ale is an English golden amber ale with warming red tones. The aroma is slightly fruity with rich malty undertones. Five Star Ale has a wonderful warm flavor, with bitterness on the back of the tongue, which permits a beautiful balanced sweetness, without being cloying. Five Star Ale is pleasant to drink, and is very balanced. In a word, satisfying!
Availability: Year round • ABV:6.0% • IBU:36.6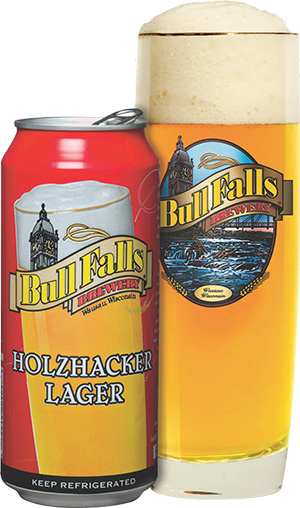 Holzhacker Lager
This Munich-style pale lager is medium bodied and has a nice malt character balanced with hop flavor that does not imply bitterness.
Availability: Year round • ABV:5.8%
Oktoberfest – Märzen
Bull Falls Oktoberfest is the brewery's first inaugural beer that is brewed with all German ingredients. Golden amber color with a malty aroma and flavor that contributes to a clean crisp taste. Has a mild balance between malt and sweetness. Very smooth!
Availability: Year round • ABV:5.2% • IBU:15.2
Nut Brown Ale
An American Brown Ale with caramel like and chocolate like characters with a slight nut presence. Very low hop character but enough to combine with the malt and carbonation to provide a pleasant mouth feel. Finishes very clean with no aftertaste.
Availability: Year round • ABV:6.3% • IBU:25.9