Virtue Cider
Virtue Cider is a Michigan-based craft cider company that uses our expertise in modern craft fermentation and aging techniques to produce ciders that embody old world farmhouse styles. We partner with local family-run farms to find the highest quality heirloom apples for our cider.
Virtue Cider founder Gregory Hall served as the Brewmaster of Goose Island Beer Company from 1991 to 2011. In his two decades of brewing, Hall developed a host of award-winning beers and is hailed as an innovator in the craft beer movement.
Hall first fell in love with cider during a tour of English breweries in 2000. Upon leaving Goose Island, Hall embarked on a pilgrimage of cider study. He toured and tasted at top cider makers in England and France, including an intensive internship at Domaine Dupont in Normandy, France.
Check out our selection of Virtue ciders below!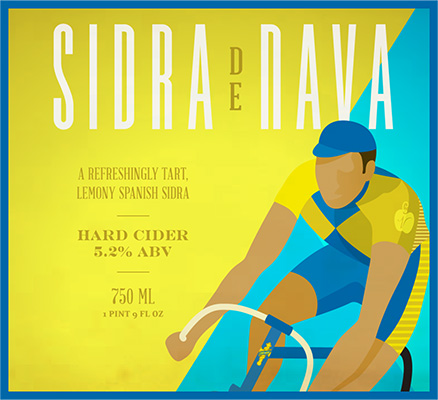 Sidra De Nava
Sidra de Nava is a tart, lemony Spanish-style sidra. The Asturias region produces 80% of the Sidra in Spain, and the Asturian summer is something to behold. The skies are clear and blue, the cafés full, and Sidra reigns supreme. Every café and Sidrería pours it – either 'thrown' from a bottle or pipa (pitcher) held high overhead or straight from the kupela (barrel). Afternoon drinking under those blue skies leads to long nights of music, dancing and of course, more Sidra. The climax of the summer is the Festival de la Sidra in the village of Nava, held each July. Virtue's Sidra de Nava is more tart than the dry ciders of England or funky cidre from France. Its lemony nose and bracingly tart dry finish are a happy intersection of cider, dry white wine and fresh squeezed lemonade. It's the most refreshing of drinks, pure sunshine in a glass.
Availability: Limited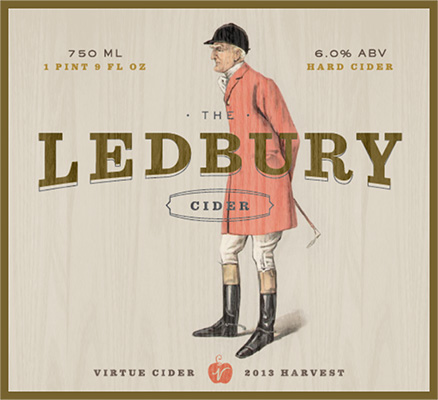 The Ledbury Cider
Ledbury is an old market town in Herefordshire, England – full of historic inns and pubs, and a beautiful, half-timber Market House dating back to 1617. It sits between the rivers Wye and Severn, surrounded by orchards growing cider apples. Gregory Hall's first visit to Ledbury was as a brewer, to buy English hops in the autumn of 2007. He returned in 2011, a newly minted Cider-maker, to meet Tom Oliver. Tom makes traditional cider and perry – some of the world's best – in Ocle Pynchard, Herefordshire.The Ledbury Cider is an English-style medium cider crafted by Virtue with Tom Oliver. It's not too dry, not too sweet. A blend of old world bittersweet apples and new world heirloom varieties are fermented with native yeast, adding a bit of farminess to the ripe apple nose.
Availability: Year round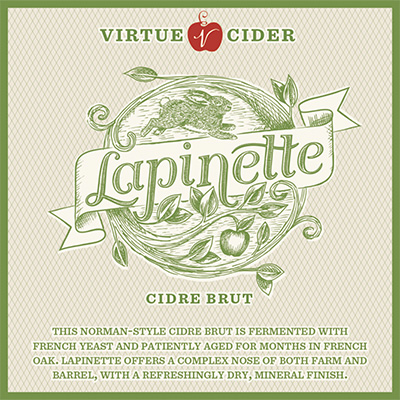 Lapinette Cider
Introducing Lapinette, a Norman-style cidre brut, aged in French oak barrels. Reminiscent of the old days in France, before the great wars, when wine makers of the south shared their used barrels with their northern cousins, the resulting ciders were a little bit rough, unfiltered with a balance of flavors from the fruit, the farm and the barrel. Virtue has recreated this traditional cider by sourcing tart fruit, patiently aging for months in wine barrels, and serving as is, without fine filtration. Lapinette is a window into our past, a very tasty time indeed.
Availability: Year round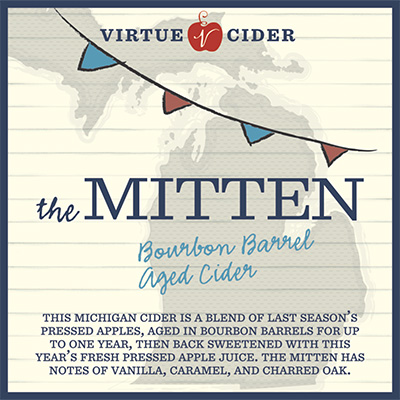 The Mitten – Bourbon Barrel Aged
When the leaves fall, there's a chill in the air and the evening greedily takes hours from daylight, we stand strong and embrace the wintertime. It's a time of rich foods, roaring fires and our favorite sweaters. Drinks change from refreshing to intense and satisfying. The Mitten is a Winter cider, a blend of last season's best, aged in bourbon barrels, with the new season's fresh pressed apple juice. Straight cider, aged for 3 seasons, finds notes of vanilla, caramel and charred American oak, balanced with the best of the orchard, over-ripe apples and their sweet, tart, earthy juice. Many barrels are filled, but only a small portion, the very smoothest, will find their way into The Mitten. We love wintertime, especially when we have The Mitten to keep us warm and happy through the long, cold night.
Availability: Year round • ABV:6.0%