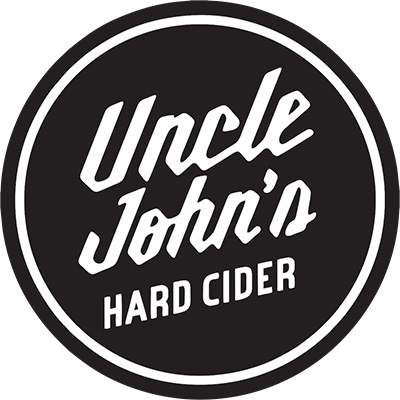 Uncle John's Cider
In 1918 our family built the Fruit House as a place to store and package fresh fruit for the wholesale market. We specialized in apples, but also grew peaches, cherries, strawberries, and raspberries. Mike Beck (Uncle John's Son), has been making fresh cider for as long as he can remember. He has always believed that the next step in making fresh juice was to turn it into hard cider! In 2003, with the help of a Federal Value Added Agricultural grant, he and his wife Dede, converted the barn again, and is now the home of Uncle John's Fruit House Winery & Uncle John's Hard Cider.
Check out our selection of Uncle John's Cider below!
Apple – Semi Dry
Our Uncle John's Traditional Apple Hard Cider is fresh & crisp. Its light sparkling body is slightly acidic but well balanced with a fresh apple taste and hints of spice found naturally in the apples. This flagship cider is highly-awarded and perfectly balanced.  Available year round.
ABV:6.5%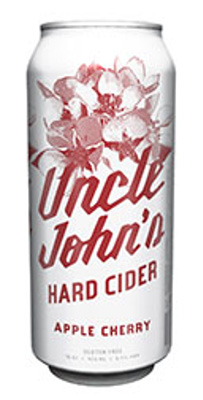 Cherry – Semi Blush
The base starts as our Uncle John's fresh apple cider which we ferment and blend with orchard fresh Michigan Cherry Juice. This carbonated blush is a perfect balance of sweet & tart flavors, but finishes mellow with subtle hints of cherry blossom. This is a great product to lead into the new market with
ABV:6.5%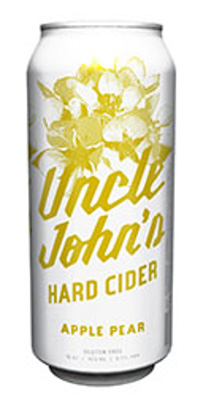 Pear – Semi Sweet
A softer blend, made from our traditional Apple and Michigan Bartlet Pear Juice.  This carbonated blend makes delicately light cider that showcases orchard freshness, with a subtle buttery finish
ABV:6.5%
Apricot – Semi Sweet
This sweeter blend of our traditional Apple blends beautifully with apricot juice.  This carbonated blend brings fresh citrus notes making this a uniquely refreshing summer cider
ABV:6.5%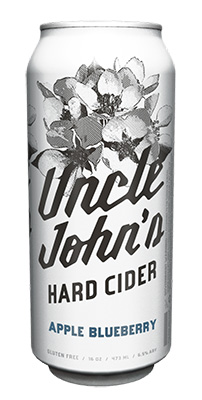 Blueberry – Semi Sweet Blush
Our sweetest cider, but not too sweet.  The balance of our crisp Apple blended with sweet blueberry juice showcases the elegant flavors of ripe blueberries and finishes soft on your palette.  This is a perfect beverage for a new cider drinker
ABV:6.5%