McKenzie's Hard Cider
McKenzie's Hard Cider is a creation started in 2011 by Lenny Ciolek, a 35-year veteran of the beverage industry who began his career at an upstate NY distributor and driving a keg truck while in college. Through the years, Ciolek then held a number of other responsibilities including (but not limited to) Regional Manager, Brand Team Director, and National Accounts & Trade Development Director.
Lenny Ciolek's extensive experience in the beverage industry kept him up-to-date on trends in markets and sales. He noticed consumer trends beginning to shift away from traditional malt beverages and start exploring other options. This combined with the explosion of micro/craft beer brands had Ciolek looking for what the next possible alternative "hot" category might be. Though cider had a very small base, he could sense the opportunities after seeing continued growth with very little competition.
Ciolek's experience in the beverage industry combined with the 160-years of cider producing from the Mayer Brothers in West Seneca NY, has made McKenzie's the favorite among consumers in New York and many other U.S. markets.
Check out our selection of McKenzie's ciders below!
Original Hard Cider
SPIRITED, FLAVORFUL PERFECTION. AN AMERICAN TRADITION
Our Original Hand-Pressed Hard Cider is reminiscent of its UK predecessors refreshing, medium body and not too dry with a crisp apple finish.
Availability: Year round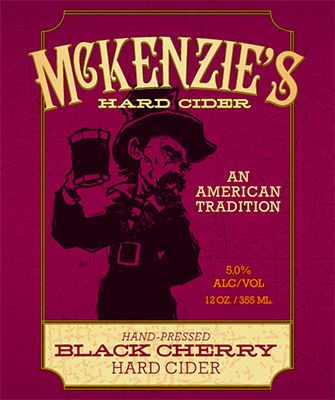 Black Cherry
THE BLACKER THE BERRY…THE SWEETER
The Juice Reserved for the darkest of hearts, McKenzie's Black Cherry is an inspiration to hard cider – rich amber, full body with a refreshingly sweet cherry finish.
Availability: Year round
Green Apple
A SWIFT KICK TO THE TASTEBUDS!
McKenzie's Green Apple Hard Cider has quite the kick. Maybe it's the deliciously crisp, slightly tart bite of green apples or the 5% alcohol.
Availability: Year round • ABV 5%
Seasonal Reserve
FLAVORED WITH CINNAMON AND NUTMEG
Sip, smell and savor the rich, mulled spicy goodness of McKenzie's Seasonal Reserve. Aromatic fall flavors warm you from the inside out, and chase away the chill on those cold nights. Serve warm or cold, but only for a limited time!
Availability: Year round