2 Towns Ciderhouse
At 2 Towns Ciderhouse we believe that the long history of cidermaking demands respect and deserves to be done right. Starting with the highest quality, whole ingredients from local farms, we take no shortcuts in crafting our ciders. We refuse to add processed sugars or concentrates and instead use slow, cold fermentation methods to allow the fruit to speak for itself. As a family-owned company, we are committed to the growth of our team and enrichment of our communities. We take pride in producing a true Northwest craft cider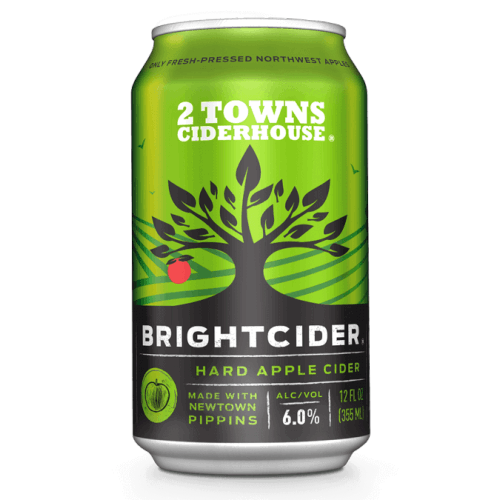 Bright Cider – Hard Apple Cider
BrightCider is made with a blend of Newtown Pippin heirloom apples and other Northwest varieties.
The Newtown Pippin was the apple which defined the palate of new world ciders. Colonists found this apple so remarkable that Thomas Jefferson himself wrote from France during his travels "They have no apples here to compare with our Newtown Pippin."
The BrightCider is fermented cold to slow the fermentation process, retaining the aromatics of this heirloom fruit. The result is our tribute to American heritage cider with a modern Northwest twist.
Availability: Year round • ABV:6%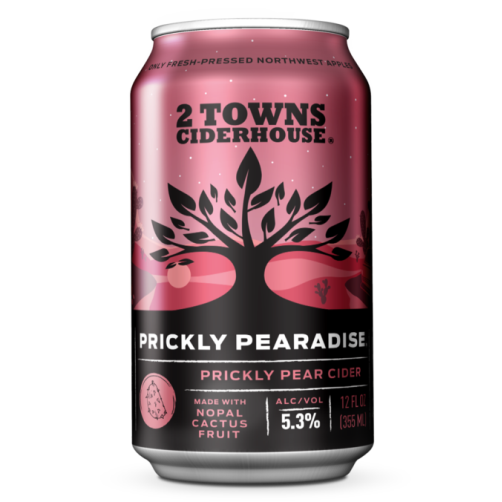 Prickly Pearadise – Prickly Pear Hard Cider
Southwest meets northwest in Prickly Pearadise—a cider as vibrant and thirst quenching as a desert oasis. Fresh-pressed prickly pear cactus fruit has a radiant pink hue and a rich, earthy, melon-like profile. Combined with a medley of fresh-pressed northwest apples, the resulting cider is a delicious celebration of northwest bounty and southwest desert vibes. It just goes to show that a little paradise can be found even in the prickliest of places.
Availability: Year round • ABV:5.3%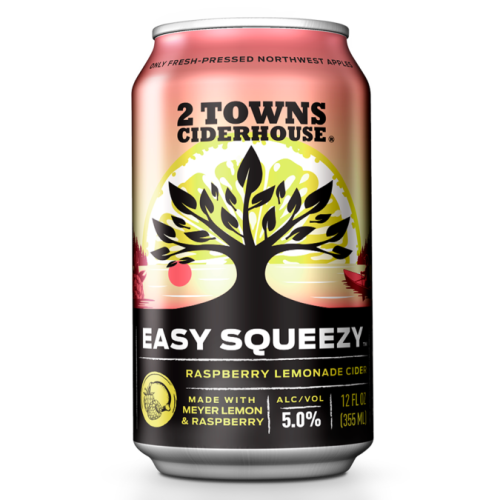 Easy Squeezy – Raspberry Lemonade Hard Cider
Citrusy and refreshing, Easy Squeezy is crafted with fresh-pressed Northwest apples, Meyer lemons and raspberries. Bringing the pink lemonade vibes, this cider goes down easy peasy!
Availability: Year round • ABV:5%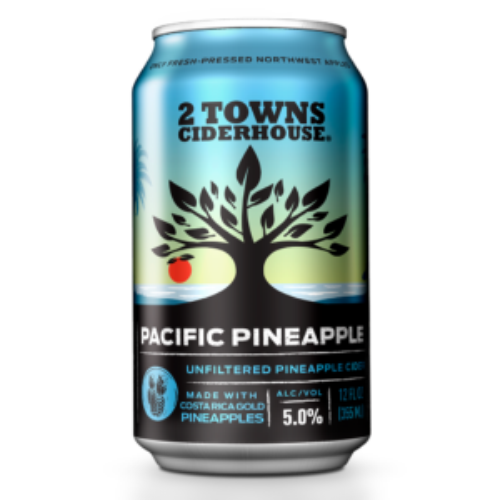 Pacific Pineapple – Unfiltered Pineapple Hard Cider
Ripe Costa Rica Gold pineapples drop in on a fresh-pressed wave of Northwest apples in Pacific Pineapple, a tropical cider made possible by the diverse climate of the vast Pacific. Temperate conditions of the Pacific Northwest nurture apple orchards, whereas proximity to the equator further south creates the consistently warm temperature required to grow pineapples. Connected to apples only by name, pineapples have a radical history traveling the world after being discovered by Western explorers, who named them for their resemblance to the pine cone. Popular wherever it landed, the pineapple was regarded as an exotic delicacy, even becoming a symbol of hospitality, as only the most generous of hosts presented their guests with a pineapple. So #BeMorePacific and show your friends the hospitality of a Pacific Pineapple!
Availability: Year round • ABV:5%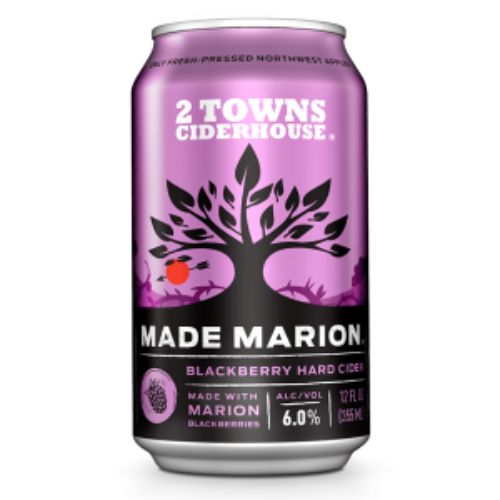 Made Marion – Blackberry Hard Cider
Marion blackberries, or marionberries are a cultivated variety of blackberry originally developed right in our backyard by the USDA at Oregon State University in Corvallis. A cross between the 'Chehalem' and 'Olallie' blackberries, both of which have Loganberry parentage, these cane fruits have been called "the berry by which all others are measured."
Marion blackberries have a wonderful, deep, ripe and juicy flavor profile and exceptionally high acid content compared to other blackberry varieties.
We use 100% Oregon grown Marionberries that are grown just down the road from the ciderhouse. These berries are pureed to release as much juice as possible, then added directly to the tank during fermentation. The result is a jammy-hued cider, that is fruit forward and berry tart. Oodalalee!
Availability: Year round • ABV:5%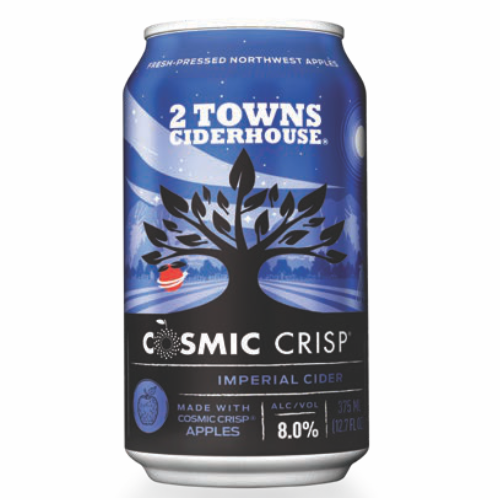 Cosmic Crips – Imperial Cider
Vibrant & stellar, we've found a way to package the stars!  Crafter with Cosmic Crisp apples, this cider shines like starlight while bright, fruit-forward aromatics collide with a high-acid profile for a heavenly experience.
Availability: Year round • ABV:8%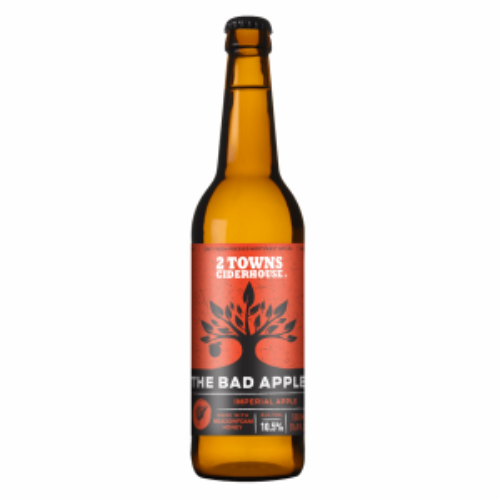 The Bad Apple – Imperial Apple Hard Cider
Each spring local beekeepers bring their hives to the giant meadowfoam fields near our ciderhouse to pollinate the flowers. The rich amber colored honey produced by these bees is some of the highest quality honey, with incredibly strong notes of vanilla, toasted marshmallows, marzipan and creme brulee.
The meadowfoam honey is added along with the fresh pressed apple juice, directly to the fermenting tank, boosting the initial gravity (or fermentable sugars) of the cider which give the yeast enough food to produce the 10.5% alcohol by volume, from which The Bad Apple's namesake originates.
The Bad Apple is then aged on Oregon white oak(quercus garryana), which is Native to the Pacific Northwest. Similar in profile to french oak, but with stronger vanilla notes, our local cooper (barrel maker) gives a slight toast to the oak, adding to the complexity of the aroma and flavor.
Both the honey and the oak are high in vanillin, the compound which gives vanilla its signature flavor. The resulting cider is rich and multifaceted with notes of mead on the mid-palate and an alcohol warmth without overpowering and a coating vanilla finish.
Availability: Year round • ABV:10.5%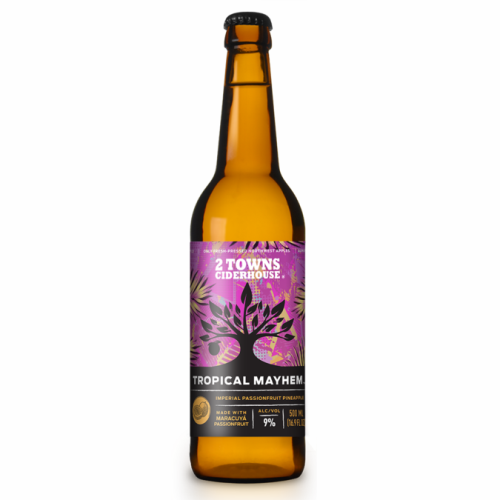 Tropical Mayhem – Imperial Passionfruit Pineapple Hard Cider
Tangy & loud, Tropical Mayhem comes in like a wrecking ball to knock out the stress of adulting. Northwest apples and ripe Yellow Maracuya passion fruit come together to create a deliciously complex imperial profile that's ready to engage vacay mode whenever you are.
Availability: Year round • ABV:9%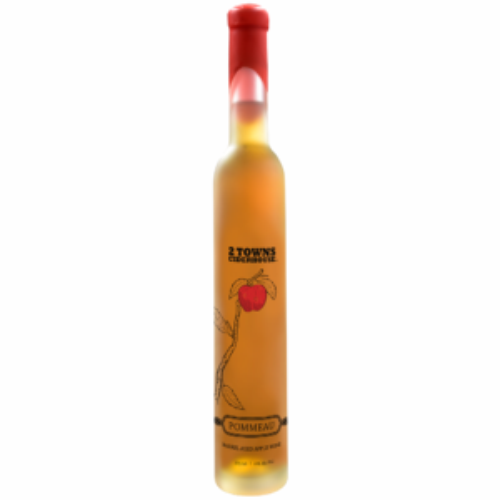 Pommeau – Barrel Aged Apple Wine
Our Pommeau is made from locally grown traditional bittersweet cider apples, which are hand harvested and 'sweated' at cool temperatures. After the apples have sweetened , the fresh-pressed juice is fermented and aged with apple eau de vie. Our Pommeau is then matured in French oak barrels for one year. The result is a tremendously complex apple Pommeau that blossoms with aromas of fresh-pressed cider, dried fruit, and wood. This bottle will improve with cellaring for up to 20 years.
Availability: Year round • ABV:19%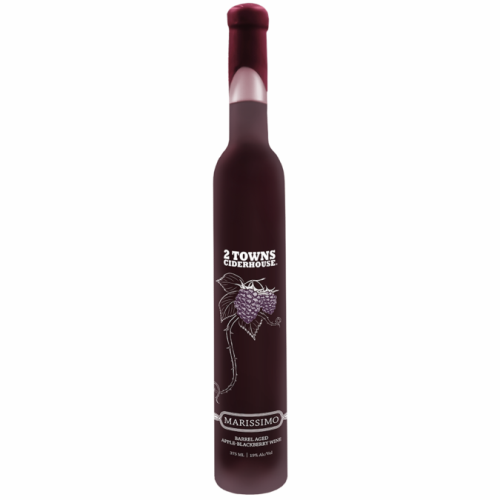 Marissimo – Barrel Aged Apple-Blackberry Wine
Our Marissimo is crafted with Marion blackberries and Pacific Northwest apples. Once the ripe apples have been 'sweated' at cool temperatures, they are pressed and fermented with local Marionberries, then aged with apple eau de vie. Matured in French oak barrels for one year, Marissimo emerges as a delightful twist on our more traditional Pommeau. Brimming with dark berry character enveloped in complex notes of oak spice, Marissimo can accompany an array of dark chocolates and other fine desserts and is best served slightly chilled.
Availability: Year round • ABV:19%